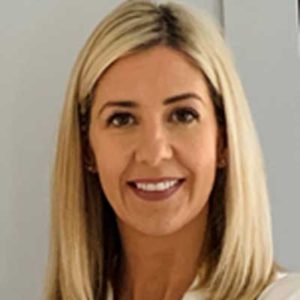 Company: Career Decisions / CDT (Coach Develop Transform)
Telephone: 01 6340077 (Dublin) 061 400664 (Limerick) 021 2355351 (Cork)
Email: admin@careerdecisions.ie
Certificate in Professional Coaching & Mentoring, Institute of Leadership and Management (2017)
Leadership & Management Coaching Certificate, Hult International Business School (2016)
MSc Business & IT, Dublin City University (DCU) (2006)
Psychometric Certification in Mental Toughness (2013)
 Member European Mentoring and Coaching Council Ireland (EMCC)
Experience in one to one coaching
Louise is a highly experienced Executive Coach with over 15 years of global experience in executive and leadership coaching, professional development and career coaching. Louise has coached over 1,500 middle and senior leaders to make sustainable behavioral, and performance shifts at work and in their personal lives. She has particular expertise in education management and is an accomplished senior leader having held the position of Executive Director of an international Business School for 8 years. Harnessing her leadership development and management experience, Louise was responsible for employee performance and engagement, training and development, coordination and collaboration with colleagues globally, and worked with an international student body representing over 60 nationalities.
Louise has vast experience in the Irish education system from primary to third level and she aligns her approach with the Centre for School Leadership's coaching support aims of unlocking potential, developing leadership skills, implementing change and creating time to plan and reflect. As an Executive Coach, Louise has coached principals, deputy principals and teachers on a broad range of areas. Feedback from coaches include:
– Increased self-awareness and understanding leadership styles

– More competent in managing difficult interpersonal relationships

– Effective time management and prioritization

– Improved communication and feedback skills

– Enhanced ability to resolve conflict

– Learned stress Management and Wellbeing techniques resulting in greater Resilience
Louise has coached an array of senior leaders across private and public sectors and clients include St Brigid's School, University College Dublin/Dubai, Ministry of the Environment, Facebook, Accenture, GE Healthcare and Kingspan. Louise's understanding of clients' needs across a wide range of industries results in vast experience and invaluable inputs when it comes to her specialist area of education management. Feedback from coachees highlights Louise's powerful and positive impact on performance, organisational results, and professional and personal development. Her systematic approach accelerates the skills development of the individual, resulting in meaningful, transformational shifts that inspire sustainable high levels of performance.
Team Coaching Experience – Louise has strong experience in designing, developing and delivering interactive in-person and online team coaching and team training sessions for both large and small groups. She works with organisations to coordinate the delivery of specific team coaching objectives and training inputs. Louise has facilitated team coaching sessions for senior leadership teams across various sectors, clients include Trinity College Dublin, Hult International Business School, Facebook, Ripple Marketing to name but a few. Topics included defining the stages of team development, setting SMART, stretch goals, fostering a collaborative climate and leading by example. Participants consistently praised Louise's personable manner, her ability to understand the context of the team and to build a comfortable environment which encouraged everyone to contribute. Outcomes achieved by teams included:
–      Enhanced distributed leadership

–      Commitment to a shared vision

–      Clarity of roles among the leadership team

–   Action plan with SMART goals

–   Strategies to overcome challenges

–   Improved team morale and team relationships
Testimonial
"Louise really helped me to develop my leadership skills. She helped me to create a working environment that fostered a work culture of constant feedback and development. I can honestly say that working with Louise as my coach was the most positive time of my career to date. I feel that the guidance and support I have received from her has set the foundations for my future success."
"What impressed me most about Louise was her practical, no-nonsense approach, her communication skills and her skill at building relationships. She always demonstrated a growth mindset and empowered her team in the same. She developed a high performing team resulting in consistently strong and increasing student satisfaction. I would not hesitate to recommend Louise for any leadership positions that she pursues in the future, and wish her all the success that she has earned."