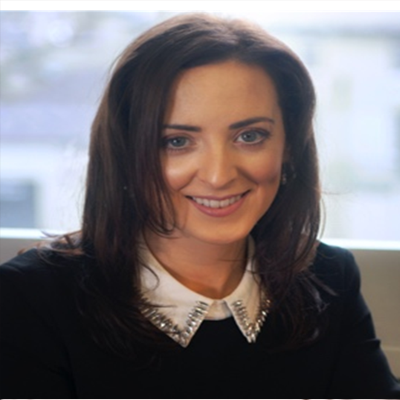 Company: Career Decisions / CDT (Coach Develop Transform)
Telephone: 01 6340077 (Dublin) 061 400664 (Limerick) 021 2355351 (Cork)
Qualifications and Affiliations
Higher Diploma in Coaching and Coaching Psychology, University College Cork
Bachelor of Business Studies, Waterford Institute of Technology
HR Qualified, CIPD / WIT
 Special Purpose Award (Train the Trainer) QQI level 6
Certificate in Recruitment Practice, Recruitment Federation
International Coaching Federation
Chartered Institute of Personnel and Development
Experience in one to one coaching
As part of the Career Decisions/CDT team of Coaches who have successfully coached over 400 School Principals, Maria combines her coaching credentials and expertise with her HR experience. Having over 12 years' HR and Recruitment experience, Maria works with senior leaders and their teams to enhance leadership capabilities and team development.
As a full-time Executive and Leadership Coach Maria has coached leaders across public and private sectors including Higher Education, Manufacturing, Retail, IT and Hospitality. Clients include Cork Education and Training Board, Tipperary Education and Training Board, Apple, Microsoft, Bord na Mona and more. Maria understands the issues facing leaders and is acutely aware of the impact a leader can have on business outcomes and on the teams they lead.
Maria has a natural ability to connect with clients and her clients describe her as a genuine, warm individual with great coaching skills and confidence boosting suggestions. Maria brings optimism and empathy to the coaching relationship whilst challenging and supporting her clients in pursing development and growth. Recent coaching projects have delivered excellent outcomes in the areas of improved communication skills, management of difficult relationships, confidence building, performance development and professional development.
Maria brings extensive management expertise and skills to each coaching assignment; she facilitates clients in gaining an insight into issues of concern, identifying solutions and planning for goal achievement. She excels in helping clients improve their confidence, identify their key skills and values and enhance their communication skills.
Maria's specialist expertise includes:
Coaching for Professional Development
Leadership and Performance Coaching
Improved Communication Skills
Management of difficult conversations
Managing Conflict
People and Talent Strategy
Testimonial
"Working with Maria has honestly been the best decision I have made all year! Maria is an amazing coach and very action orientated, which is exactly what I needed. Together we worked on a professional plan and through timelines and action steps, I have followed through with some huge decisions. Maria is so supportive, professional, and accommodating throughout the entire coaching process. Maria is fantastic to work with and I would highly recommend her to anyone."