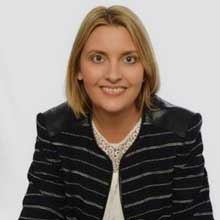 Company: Career Decisions / CDT (Coach Develop Transform)
Telephone: 01 6340077 (Dublin) 061 400664 (Limerick) 021 2355351 (Cork)
Qualifications and Affiliations
M.Sc. in Executive Coaching and Behavioural Change (with Distinction), Henley Business School
Emotional Intelligence EQi 2.0 and EQi 360 Consultant
Certified MBTI Practitioner (Myers Briggs Personality Profiling)
Time to Think Qualification – Facilitator in creating break-through thinking environments
Leadership Architect, Learning Agility, Korn Ferry
Advanced Facilitation Skills, Insights Consulting
Certificate in Training (with Distinction) IITD
Higher Diploma in Personnel Management (with Credit) UCC
Higher Diploma in Personnel Management (with Credit) UCC
High Performance for Leaders Level 1 & 2, International Management Institute, Switzerland
Delivering 360 degree feedback, EMC University
Various EMC University courses on management development
Mentor to EMC Women's Leadership Forum and HR Graduates providing support and networking opportunities for women in leadership positions
EXPERIENCE
As part of the Career Decisions/CDT team who have successfully coached over 400 School Principals Susan has coached principals from DEIS schools, large city second level schools, primary schools, teaching principals, both newly appointed and experienced principals on an individual basis.
For 10 years Susan was the Manager for a Junior Achievement Programme within EMC/Dell. She worked with teachers to build up the programme with volunteers from the business and was instrumental in building a new programme 'make maths matter' between local schools in disadvantaged areas and Junior Achievement.
Passionate in supporting Principals to develop their leadership signature through self-awareness, emotional intelligence and naming the fear that is holding them back. Susan specialises in a broad range of issues including delegation and distributed leadership, building confidence in leadership style, making the transition into a new principal role, establishing a change in culture, time management, conflict resolution, development of boundaries and building of resilience. Some of the outcomes reported by principals include:
More confidence in their leadership skills and recognising that they are a leader
Established time management skills while building boundaries between school and home life
Principals developing their leadership team to take ownership for decisions
Developed techniques to have the difficult conversations with staff
Coaching for high performance; individual and team
Managing a breakdown in staff relations.
Susan has 24 years' leadership and HR experience with the last 10 years primarily focused on coaching and development. She has worked in many different industries including US multi-nationals and Irish owned companies with extensive experience in senior management, leadership and change management, while leading teams in global organisations.
Susan has coached at all levels of management from VPs to new team managers. She is acutely aware of the impact a leader can have on business outcomes and the teams they lead. With significant experience of coaching in different organisations including multinationals, SMEs and start-ups. Susan has coached leaders at both national and European level and across many different sectors including Education, IT, Sales & Marketing, Engineering, Financial and Shared Services. Companies include the Department of Education & Skills, Tipperary Council, GSK, VMWare, Dell, AIB, and Apple.
Susan believes that coaching is the key for individuals to reach their full potential. She naturally builds a rapport with her client that allows a trusting but challenging relationship be established. She supports her clients in clarifying their thinking, identifying opportunities where they previously believed that none existed enabling them to design a plan that delivers success for both the individual and the organisation.
Testimonials
"The coaching sessions with Susan were extremely influential and each session has had a tremendous impact on my performance as a leader and on my wellbeing. Susan was supportive, re-assuring, enthusiastic and intuitive. She asked those all-important probing questions and listened intently without interruption. Susan responded thoughtfully and she used her knowledge and experience to explore my thinking and details that would affect my performance as a leader. Perhaps one of the most challenging aspects of educational leadership is managing people. Susan probed and encouraged me to view tricky interpersonal situations from a different perspective and subsequently better manage them. The coaching sessions with Susan were invaluable as I now lead with more confidence and I am more resilient to face all challenges that lay ahead."